Glitterati Incorporated is pleased to announce the release of:
Homage -Encounters with The East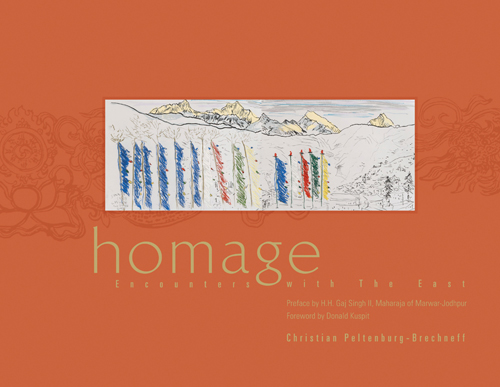 Christian Peltenburg-Brechneff
Foreword by Donald Kuspit
Preface by H.H Gaj Singh II, Maharaja of Marwar-Jodphur


"The brilliance of Peltenburg-Brechneff's drawings has to do with their dialectical blending of opposites….It is what makes the drawings indistinguishably abstract and representational. Peltenburg-Brechneff does indeed live India."
---Donald Kuspit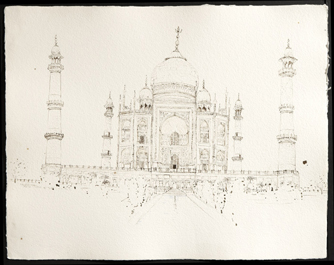 In the age of mechanical reproduction, many fail to appreciate intricate drawings made by hand, hands having become mere obsolete instruments these days, compared to the fast precision of the digital camera. Christian Peltenburg-Brechneff's drawings capture what the camera can never capture: the spirit of the places he has rendered.
Brechneff takes on the challenge of exploring and translating the architectural and spiritual wonders of the "lost" kingdoms of the Himalayans with brush and ink and color washes: Laddakh, Nepal, Sikkim, Bhutan, India, Burma, Cambodia and Laos. Brought to life through imaginative investment, Brechneff's subjects become more mysterious, and preciously exciting than ever. They sparkle with subjective life and become rapturously alive in a way that a photograph could never be.
The ancient architecture of India--many old palaces and temples-- and ageless mountains are already inspired creations, with archetypal import, emphasizing that Brechneffs's journey to them is a spiritual journey. The intricate drawings form a visual diary of his travels. Each drawing is dated, and the place depicted named, indicating that the drawing is a documentary as well as personal journal. Peltenburg-Brechneff decodes and maps India's architecture and mountains with the hope of grasping the secret of their creative dynamic, rather than only preserving their dramatic appearance for posterity. Homage is a breathtakingly beautiful spiritual quest.
Born in the Congo in 1950, Christian Peltenburg-Brechneff was educated in Switzerland, England and the United States. In 1975 he received his Master of Art Degree from the Royal College of Art in London. He has exhibited his work in Europe and the United States, and has won numerous awards, including the Swiss Federal Government Scholarship. "Three Oceans," his last one-man show in New York in 2001, was at Salander-O'Reilly Galleries, where he lives as well as Hadlyme, Connecticut.
Donald Kuspit is America's foremost art critic, poet, and professor of art history and philosophy at the State University of New York at Stony Brook. He was formerly the A.D.White Professor-at-Large at Cornell University (1991-1997). He received the Frank Jewett Mather Award for Distinction in Art Criticism in 1983 (given by the College Art Association). He lives in Stony Brook, New York. H.H Gaj Singh II is the Maharaja of Marwar-Jodhpur in India. He succeeded to the titles and dignities of his father when only four years of age, in 1952, when his father died suddenly in a plane crash. He was enthroned shortly afterwards. At the age of eight, Gaj Singh first attended Cothill and then to Eton College. After Eton, he went on to Christ Church, Oxford, where he was awarded a Bachelor's degree in Philosophy, Politics and Economics. He lives in the Umaid Bhawan Palace in Jodhpur, India.


Homage - Encounters with The East
Christian Peltenburg-Brechneff
Foreword by Donald Kuspit; Preface by H.H Gaj Singh II, Maharaja of Marwar- Jodphur
Published by Glitterati Incorporated/Distributed by National Book Network
Hardcover, 144 pages with 85 sepia and four-color drawings,
8-page gatefold; ribbon marker with bells
ISBN13: 978-0-9793384-1-0
Price: $75, Deluxe boxed limited edition with signed $300.00
Publication Date: November 1, 2007
Specifications
The author is available for media interviews and appearances through the publisher.
For more information, please contact Gayatri Mullapudi at (212) 362-9119
or
To order copies now for October 2007 delivery please contact the publisher at
Phone: 212 362 9119 or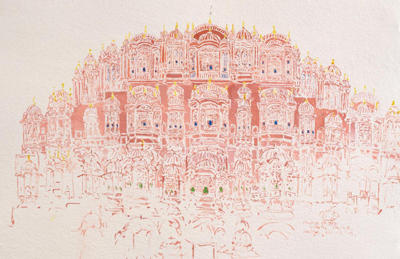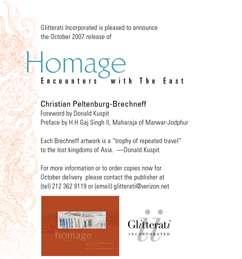 Click on the image to download and enlarge
For more information about Christian Peltenburg-Brechneff and his work please visit www.christianbrechneff.com