"What an enchantment to enter gardens through Christian's eye, down steps, along paths into a dazzling wildness of flowers and leaves, made magical by his brush and pen—not a word needed."
—Page Dickey
"Christian's gardens celebrate light, dark, heat, water, and time, as well as flowers. Some of the gardens are gone, some still triumphantly alive, but on these pages all remain as they were when he found them—as clear as Emily Dickinson, as sexy as Baudelaire, as hilarious as Edward Lear's limericks. Christian's garden chairs brood like Edward Gorey heroines. His closed iron gates are as light but final as the word 'no.'"
—Mac Griswold
---
For the past three decades, artist Christian Peltenburg-Brechneff has often traded his traditional artist studio for the expansive possibilities of a global odyssey. Immersing himself in terrains both near and far—from Lunuganga in tropical Sri Lanka to the Aegean Island of Sifnos—he has had the privilege of painting in some of the most exquisite and heretofore unrecorded gardens of worldclass tastemakers and the international elite.
Translating the immediate and sublime presence of nature with painterly impressions en plein air, Peltenburg-Brechneff pays homage to the resplendent beauty of the garden and the visionaries behind them. Included here are gardens by masterful designers like Geoffrey Bawa, Bruce Kelly, Bunny Williams, and John Rosselli. Into the Garden chronicles this long-term pilgrimage of a visionary painter, opening the exquisite private gardens to the public through Peltenburg-Brechneff's vivid expressions in watercolor, oil, and gouache—all this in a charming, gift-sized format.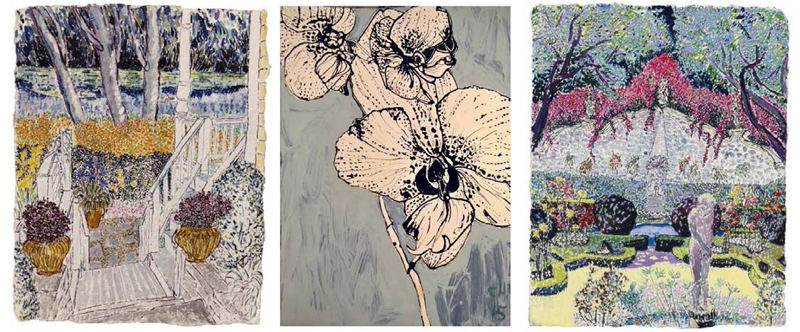 About the Author/Contributors:
Born in the former Belgian Congo, artist Christian Peltenburg-Brechneff has exhibited his drawings and paintings in numerous galleries across Europe and the United States. Educated in Switzerland, England, and the United States, he received his master of art degree in 1975 from the Royal College of Art in London. In addition to winning prestigious awards, such as the Swiss Federal Government Scholarship, his paintings appear in distinguished public and private collections worldwide, including the Metropolitan Museum of Art. He currently divides his time between Hadlyme, CT, New York City, and St. Martin.
Bunny Williams is a celebrated interior and garden designer, known for her eclectic style of harmonizing the old with the new. Born in Charlottesville, VA, Williams has parlayed her refined taste and entrepreneurial spirit into her award-winning design business, Bunny Williams Home. Her forthcoming title, Love Affairs with Houses (Abrams Books), is expected in 2019. She currently splits her time between New York and Connecticut.

Regarded as one of America's most preeminent art critics, Donald Kuspit is the Distinguished Professor Emeritus of Art History and Philosophy at the State University of New York at Stony Brook. He has received numerous fellowships, including those from the Ford Foundation, Fulbright Commission, and the National Endowment for the Arts. Most notably, he is the author of The End of Art. Kuspit is based in New York.
Into the Garden invites readers to take an unprecedented around-the-world exploration into the splendor of tantalizing and heretofore private gardens so lusciously rendered through Christian Peltenburg-Brechneff's vivid expressions and gestures in watercolor, oil, and gouache.